A lovely girl named Emma contacted me recently and asked if I would design a card for her. She gave me a few details about the lady that the card was for and I tried to include as many of these elements as I could so that the card would relate to her as much as possible. I hope she likes it!
More posts like this: badge, card design, doodles

A lovely person called Isi got in touch with me to design a card for their friend Juliet.  I also included a personalised badge (I was told that she loves zebras) and envelope.  It was really fun to do and I hope she liked it!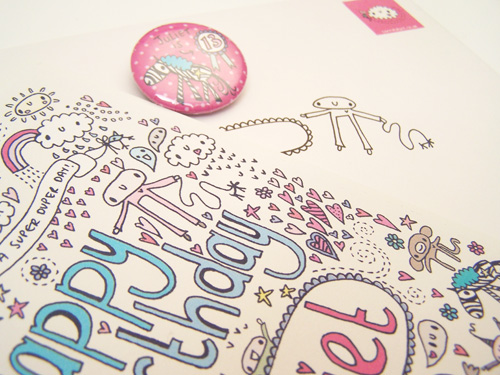 More posts like this: badge, birthday, card, commissioned, personalised

It was my design buddy, Sarah's (nicknamed 'Sarash') birthday yesterday and so I drew her a card from everyone at work. The card also included some Hattifatteners from the Moomins as we have just got the license to design a Moomin bag range and the Hattifatteners are some of our favourite Moomin Characters!
More posts like this: badge, card, Hattifatteners, Moomins